Some insist that a camping stove can make your camping life much easier – it's true in many ways.
There are more choices for cooking, and your meals no longer have to be the boring "bread – hot dogs – stew – repeat" anymore.
So this article is going to be all about camping stove recipes – the quite easy ones but come with tastes like in high-class restaurants.
For breakfast, one of the best ways to have an easy but gourmet breakfast is to be creative and improvise the old school dishes.
You may be already familiar with the name of the dishes below, but prepared to be blown away by the refreshing taste!
#1 Pancakes
---
The gourmet part? The original taste of real pancakes (not from pre-made shaker bottles)
The easy part? Just try to name someone who does not know how to make pancakes!
What part of pancake is gourmet since you may eat them every morning? The thing about pancakes is they offer you a variety of taste, and you're free to improvise (whole grain, Greek yogurt, etc)!
Tired of the usual ones? Be creative! The blog link provided below gives you seven ways of making delicious camping pancakes, only in a blink of eyes.
Recipe link here.
#2 One-pan English Frittata
---
The gourmet part? Omellete enriched with cheese and potatoes, a hearty brunch!
The easy part? Simply whisk the eggs, add ingredients, and cook them.
If you want to turn the English classic egg & bacon into something different, this is the recipe for you.
Making this breakfast can take you up to half an hour; but the taste will worth the wait, plus you don't have to be a skilled cook to finish this dish.
Heat up your camping stove for this dish and you're ensured to have enough energy for a long interesting day!
Recipe link here.
#3 Asian Oatmeal Breakfast Bowl
The gourmet part: Oats, chicken and eggs? Definitely something new and healthy!
The easy part? It's just all about cooking oat meals.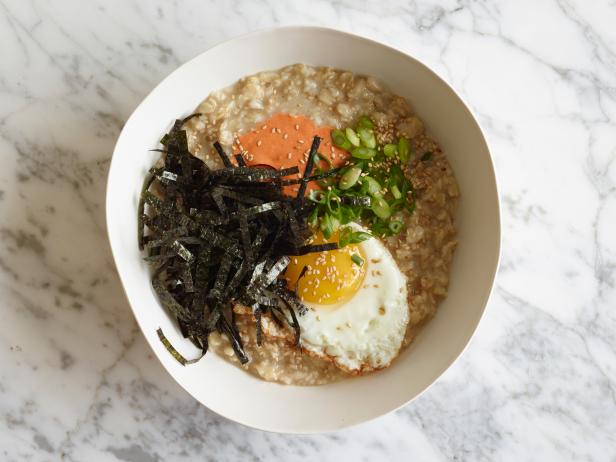 Growing tired of the usual oatmeal? Alternate your breakfast by this mouth-watering recipe.
You may need to spend about thirty minutes with the camping stove for this recipe, but the cooking techniques are really simple.
This guarantees to be the healthiest of all – the sesame oil and the nori (seaweed) really brings out a whole refreshing taste!
Recipe link here.
#4 One pot creamy Sundried Tomato Pasta
---
The gourmet part? Freshly-tasted pasta served with tomatoes and herbs.
The easy part: How hard can it be boiling pasta and mixing it with sauce?
Now this isn't about pasta, but the unique sauce. You'll feel the difference right when you taste it – not many pasta dishes come with garlic and sun-dried tomatoes!
You can add salad for side dish to enjoy the meal to the fullest – by having something light in addition to the heavy and creamy flavor.
Recipe link here.
#5 One-pot chicken pilaf
---
The gourmet part? A perfect mixture of rice, chicken and veggies.
The easy part: Mix it and fry!
This curry is originally Indian food, but with the English's re-touch, the rice had become fluffy and light; acting like a base for other ingredients to shine.
Add in some herbs and choose your favorite kind of vegetables to complete your own camping stove recipe.
Recipe link here.
#6 Campfire Fajitas
---
The gourmet part? Juicy chicken breasts, serving hot with spicy paprika.
The easy part? Cover the meat in marinade and cook it – nothing as easy as that!
You won't be able to resist this once you tilt your nose at the aroma of chicken, seasoned perfectly with garlic and pepper.
The recipes below are perfect for big groups of people, and you can use any combinations of spices to boost up the taste.
For this dish to be good simply pay attention to the marinade – mixing cumin and lime juice with the right amount leads to a very pleasing spicy taste.
Prepare the side dishes with paprika and onions then wrap it all up in a tortilla stack for a hearty meal.
Recipe link here.
…Or you're ready to try something different!
#7 Oyster Kilpatrick
---
The gourmet part? Oyster? Definitely the keyword for a gourmet meal!
The easy part? All you need is to grill it!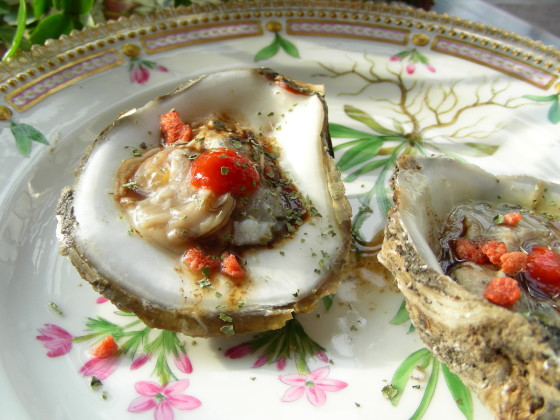 Now Oyster Kilpatrick may sound like a high class dish, but it doesn't mean you can't have it at your campsite.
Just prepare the sauce, some add-ons (bacon) and the oysters then you're good to go. If you don't want to make a fuss with the sauce, you can easily buy Worcestershire sauce at stores.
Recipe link here.
What makes the grilled oyster gourmet is the sauce. So different sauce recipe you have different grilled oyster dish. Check here for more great sauce recipes.
#8 Pad Thai
---
The gourmet part? Rice noodles!
The easy part? Pre-cooking at home – it only takes fifteen minutes for this dish in the campsite.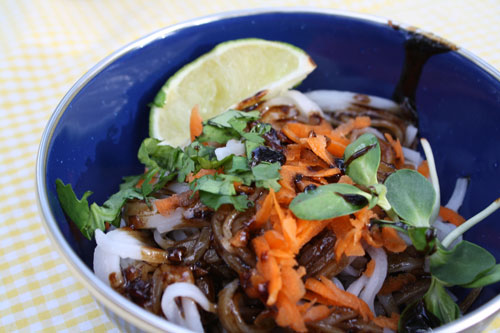 Fancy a restaurant meal right at your campsite? Just use the Asian's pride: rice noodles and fish sauce.
The taste is an amazing sweet-and-sour combination of vegetables, shrimp and noodles. Replace tofu for vegetarians, the flavor is wonderful still.
Recipe link here.
#9 Teriyaki Salmon Rice Bowl
---
The gourmet part? Fatty salmon and aromatic seaweed rice.
The easy part? Ingredients can be prepared at home and still keep taste.
Contrasting to the common false belief of soy-like plain taste, Japanese cuisines come in distinctly bold flavors, and they are very healthy too – since all the ingredients are light and nutrition is well-balanced.
"Teriyaki" means "marinated in soy sauce and broiled", so the salmon will have this caramelized taste – it really sounds like something you have to try.
It is also very easy to prepare, providing that you all have your ingredients prepared beforehand.
Recipe link here.
#10 Chicken Enchilada Nacho Bowl
---
The gourmet part? Crispy camping nachos and their various combinations.
The easy part? Simply reheat the pre-cook chicken and mix it all up!
This is probably the best camping stove recipe to alternate – from the portion to the assembling; even the side dish can be improvised! You can prepare this either as a snack, or as a main meal.
A super easy make-ahead dish, but comes with this crunchy taste that will blow you away – your kids wouldn't miss it for the world!
Recipe link here.
Conclusion
Camping is all about exploring new things, so why not let camping food be one of those options?
Whether if you like your meals prepared in classic style or would love to have something new on the plate; these camping stoves recipes guarantee you the least burden of preparation, but the best gourmet experience you need for a camping trip.